Latest SME Instrument results: European Commission to invest € 9.1 million in 189 innovative businesses
189 small and medium-sized enterprises (SMEs) from 24 countries have been selected for funding in the latest round of the Horizon2020 SME Instrument.
The funding is provided under Phase 1 of the instrument, which means that each project will receive € 50,000 to finance feasibility studies for new products that can disrupt the market. They can also ask for up to three days of free business coaching.
The 189 SMEs that will receive funds proposed 182 projects in total (multiple SMEs can be involved in one project). The SMEs will receive € 9.1 million in total for this cut-off.
Italian SMEs were particularly successful with 34 companies accepted for funding, followed by firms from Spain (30) and the United Kingdom (18). Most of the projects funded will be in the area of ICT (29), followed by transport and low-carbon energy systems (both 24).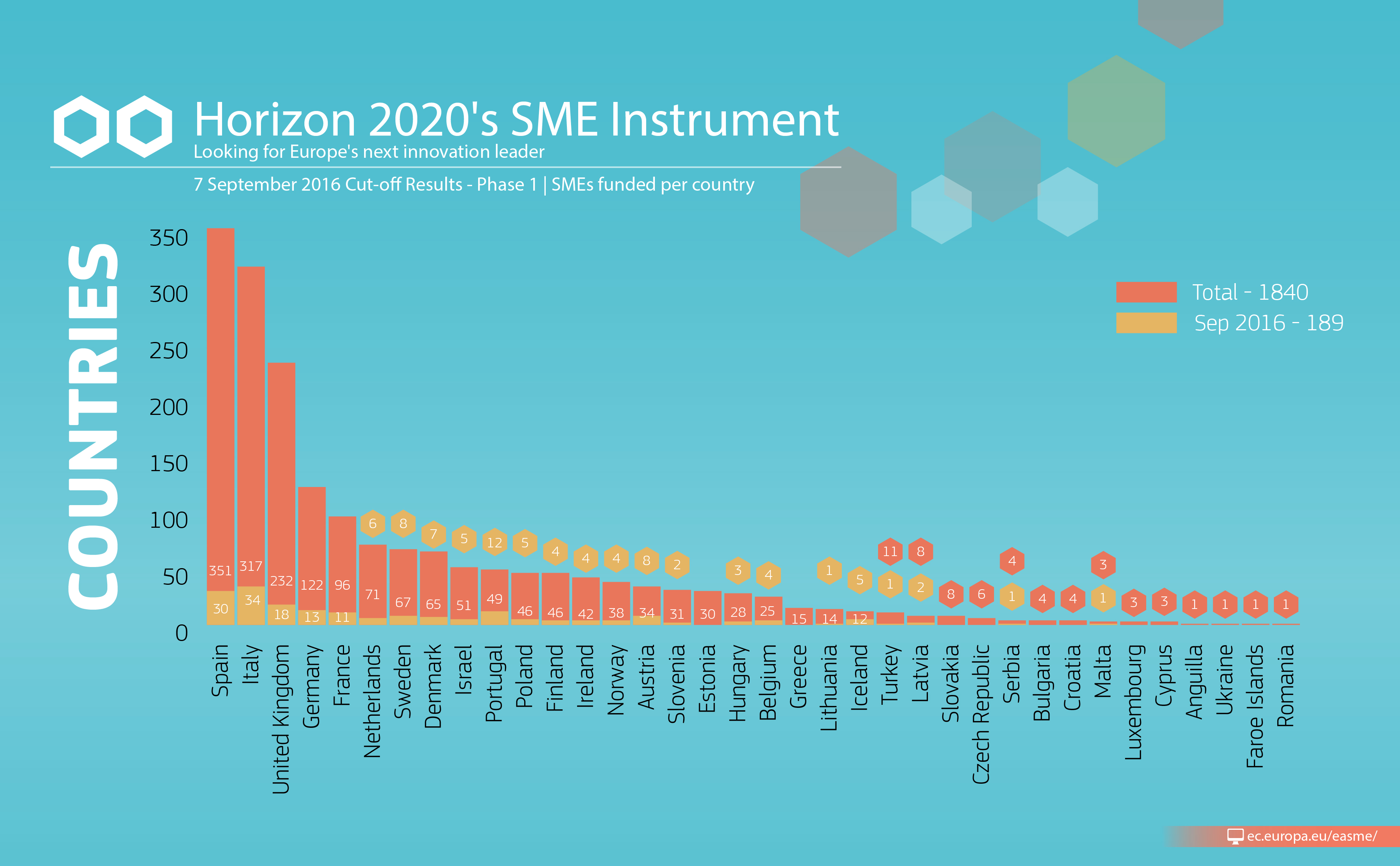 For the third cut-off of the SME Instrument Phase 1 this year, EASME received 1,938 project proposals from 40 countries. Since the launch of the programme on 1 January 2014, 1840 SMEs have been selected under Phase 1 of the SME Instrument. The next cut-off for Phase 1 is 9 November 2016.
Since 2014 ZABALA Innovation Consulting has obtained financing for 34 SMEs that have already launched their innovation projects. If you are looking for support with your project or innovation idea, do not hesitate to contact us.
More information: ec.europa.eu
Don't miss any of our R&D calls.
Suscribe you to our newsletter and we will keep you updated to the latest news
You may also be interested in:
Today MEPs confirmed their position on the next EU long-term budget, including a precise breakdown of the amounts for each EU programme. Budget for Horizon Europe should be set at €120 billion in 2018 prices (Commission original proposal: €83.5 billion).
This prize recognises women entrepreneurs who have developed and brought to market an outstanding innovation. How to apply, news about the contest and full details of previous years' results.
The partners of the European project REZBUILD have gathered recently at the facilities of PLACO Saint-Gobain in Madrid sharing the progresses made during the first 12 months